Drawing New Lines – FUHSD Policy Update
Hang on for a minute...we're trying to find some more stories you might like.
On October 30, 2015, 200 Cupertino High School students currently living in west San Jose received a letter from the Fremont Unified School District (FUHSD) informing them that it is "considering shifting a small section currently in the Cupertino High School attendance area." Until the year 2018, recipients of the letter will have the choice between continuing their high school education at Cupertino High School (CHS) or transferring to Lynbrook High School in San Jose. Needless to say, a majority of the recipients were confused by the sudden notice of the change in local schools.
The FUHSD report for projected enrollments predicted that CHS will face a dramatic increase in its student population in the next five years.  Approximately 2,100 student currently attend CHS, and the Enrollment Project Consultants reported that by 2018, the CHS student population would increase by 460 students. Although a larger student population does provide more diversity within CHS, the sudden influx of students is expected to pose some problems for the school.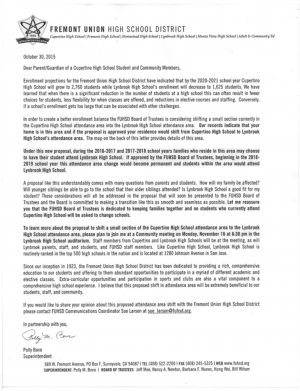 In order to balance the student populations among the district, the FUHSD has redrawn the borders so that 200 students will be relocated from Cupertino to Lynbrook.
The shift in district borders has led to a sudden shift in housing prices within the San Jose area. The National Association for Realtors predicts that housing prices in west San Jose will see a 9% increase next year, including homes within the Lynbrook area.
Despite the option to transfer to a different school, most students who have received the letter are choosing to continue their education at CHS. Said junior Grace Chen, who attended Miller Middle School, "Personally, I think there's no point in moving to a different school when you only have one more year left, and it's disorientating to force yourself to adjust to such a new environment." However, Chen notes that most Miller students attended Lynbrook High School after graduating, but she found her place at CHS instead. Said Chen, "It was a disorienting arriving to such a new school, but I adjusted and made new friends, and I wouldn't want to have to switch schools senior year."
       Despite the sudden announcement of the new border drawings, the FUHSD remains indecisive about certain matters regarding the policy, such as whether siblings of Cupertino High School students would be allowed to attend Cupertino despite the change in borders. The FUHSD has notified those affected that it will continue to discuss such matters in future meetings. Even with the FUHSD's efforts to adjust its policies with the new borders to accommodate students and families, the change will nonetheless affect hundreds of students at both Cupertino and Lynbrook.