North Korean Music Review
Hang on for a minute...we're trying to find some more stories you might like.
Ever listened to North Korean music? Three staffers tried their ears (and patriotic spirits) to the songs below.
"Defend the Headquarters of the Revolution": The beauty of North Korean music lies in its revolutionary spirit. The song is about taking up arms and defending the "Headquarters of the Revolution" against the threat from capitalist pigs and expresses how "millions will become guns and bombs and defend [the Headquarters of the Revolution] to the death." Even more beautiful is the pure, unadulterated inspiration that the song inspires in all its listeners. As a listener myself, who (sadly) cannot understand the language, even just the music itself is enough to galvanize my spirit and encourage myself to take up arms against whatever I need to accomplish. The song exhumes on a triumphant, glorious tone; the trumpets blaring as an accompaniment to the Merited State Chorus of the Korean People's Army, along with the perfectly-timed cymbal crashes in the background, all work to instill an everlasting spirit in the listener.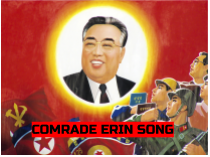 "No Motherland Without You": Although it does not hold as much personal sentimental value compared to "Defend the Headquarters of the Revolution," the song, "No Motherland Without You," offers a more diverse selection of trumpet scores, along with the familiar voice of the legion that we all cherish in the music of the Motherland. Although admittedly not as catchy as other works, "No Motherland Without You" reserves a special place in our comrades' hearts for its slow, welcoming chorus that instills the knowledge that a group ceases to truly exist without its individual members to bolster it. "No Motherland Without You" perpetuates the notion that a nation does not stand without its people, no matter how starved for food or competent leadership said people might be.
Playlist recommendation: A versatile piece, "No Motherland Without You" easily incorporates itself into any playlist. However, the multifaceted of the song makes it best suited to listen to when in a relatively neutral mood.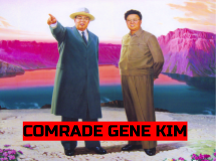 "We Shall Follow You Forever/We Will Travel One Road Forever":  The last song, "We Shall follow you Forever," leaves more of a somber impression. The song seems to entail a saddened chorus which is facing hardships while refusing to stop following their leader. It gives me the notion that committing to a task or goal can be tough at times, and the decision to say that I "will follow you forever" takes a lot of strength. Apart from listening to the song, I can decide that whatever I am committing to will be worth the hardship.