Idolizing Influencers and Politicians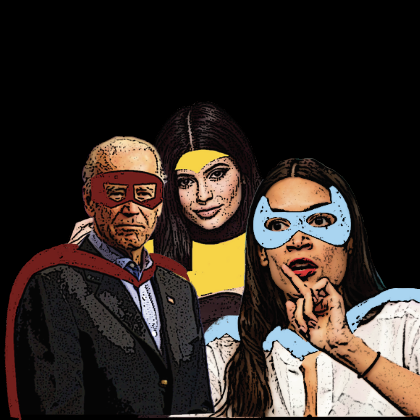 Society today tends to follow the beliefs and practices of the people they idolize. Whether they are politicians or influencers, celebrities tend to put on a facade, and as an audience, we never know what they are genuinely like apart from what we see on social media and the news. Gen Z mainly receives news and other information about celebrities from social media platforms. Most people tend to bandwagon on whatever/whoever is the most admired or talked about, which is usually misleading and tends to lead to an infatuation towards certain celebrities based on trends.
An example of a politician who is heavily idolized by his supporters is Joe Biden. As he has won The 2020 Presidential Election, many Americans have begun glorifying him without being aware of his political opinions and views, especially since he contradicts himself. A common problem, particularly on social media, is that most people glorify politicians because of their social media presence, not their policies. An example of this would be when Alexandria Ocasio-Cortez (AOC) streamed herself playing Among Us, which immediately became a trending topic causing more people, especially in Gen Z, to become infatuated with her. Most of her "fans" are completely unaware of her views and opinions similar to Biden. Instead of idolizing politicians based on their social media presence, we should view politicians critically based on their policies and beliefs.
Many people, especially teens, idolize influencers who are popular on social media platforms such as Instagram and TikTok. More women started to get plastic surgery (mostly non-surgical such as lip fillers and botox) because the infamous Kardashian family completely transformed their outlooks. The Kylie Jenner Lip Challenge is one of the dangerous trends that emerged from the Kardashian family's idolization because people were obsessed with getting "Kylie Jenner Lips" without paying hundreds of dollars for routine injections. For some background information on this challenge, it consists of people, mostly girls, to suck on a shot glass, creating a vacuum, for 30 seconds to one minute. A common side effect was bruising around the mouth and even potential tissue damage of the lips with repeated use. Idolizing the Kardashians also leads people, mostly of younger ages, to follow unrealistic beauty standards, which ultimately leads to them feeling like they have to replicate this look to be successful or liked. 
Another influencer who should not be glorified by her fans is Zoe Laverne. Her fans overlook all of the things she did, including grooming a 13-year-old boy and telling people that they should kill themselves. The minor was one of her fans, and because he was infatuated with her, she misused her power to manipulate him. Her audience is mostly younger at around ages 12-15, and since they are idolizing Laverne, they do not understand the dangers of normalizing her behavior. Not to mention, she also encouraged her fans to vape, again misusing her power to manipulate her followers into participating in risky behavior, which could cause potential harm in the future.
Chris Brown is an influencer idolized by rap audiences to a point where they justify his abusive behavior similar to Zoe Laverne's situation. For some context, in around 2009, Rihanna reported that Brown had been physically assaulting her throughout their relationship. Despite the proof and actions taken against him, his fanbase continues to support him, ignoring his past allegations, which again normalizes toxic behavior that will later influence their future actions. Brown's fans still glorify him because idolization makes people look past or even defend immoral acts. Although influencers are supposed to influence their demographic, some seem to be steering their fans in the wrong direction.
Since many people tend to mold their lives around their idols, it is crucial to draw a line between a role model and celebrity infatuation. An influencer's job is to entertain their audience, not mentor them. Although politicians are elected to represent different communities, their supporters should view them critically instead of glorifying them. Politicians and influencers tend to hide behind a mask so far as what is on social media and news, which takes away from figuring out what they are like when there are no cameras or paparazzi around.