Rundown of Apple's 'Unleashed' event
On October 18, 2021, Apple hosted its second fall event, titled "Unleashed," primarily focusing on music and updating its line of Macbooks with new ARM-based processors. They brought two new Macbooks, a new addition to the AirPods lineup, and improvements to Siri's integration with Apple music to the table. 
The event kicked off with a creative movie presenting an individual making music with a collection of sounds from both iOS and macOS, transitioning Apple's new music plan. Similar to other plans, it's a monthly subscription service, conventionally priced at $4.99. Now named the "Voice Plan," users can and play specific songs, playlists or radio stations. The plan comes with new improvements such as Siri allowing users to ask for playlists based on their mood. For example, users can simply ask "Hey Siri, play something to help me relax," and improved integration allows for easily accessible songs. However, the "Voice Plan" does not support spatial and lossless audio. 
Additionally, Apple has also announced three new HomePod mini colors — blue, yellow and red — joining the existing colors: space gray and white 
They also introduced a new tier of AirPods, products' price starting at $179, placing it in the middle tier of available AirPods. Although these AirPods do not sport rubber tips that allow for a personalized fit, they are fitted with Adaptive EQ, which adjusts frequencies in the audio to closely match what the audio should have originally sounded like. Users can expect 6 hours of battery life and a case that allows wireless and MagSafe charging. Apple announced that the new AirPods will be freshly in stock starting next week.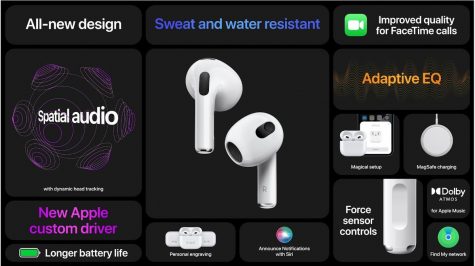 Apple's presentation also focused on Macbooks, as Apple introduced the M1 Pro and M1 Max, to add to its lineup of Apple Silicon chips. These chips were made to fit in the higher tier of Macbook Pros, and thus start with 16 GB of RAM and 512 GB of SSD storage. They greatly improve the power efficiency and processing speed from the already impressive M1. This new generation of Apple Silicon also addresses some of the features that the M1 was lacking, such as support for additional external displays and capability for ports. 
Two tiers of the Macbook were refreshed. What used to be the higher end version of the 13" Pro is now a 14" Pro, and the 16" Pro is now updated with a fresh design and integration of Apple Silicon. Both notebooks greatly improve on screen real estate, as a notch (similar to the one seen on the newest iPhones) has been carved out to make room for a 1080p webcam. The area around the notch seamlessly integrates the menu bar. The display itself also improved, as it incorporates Liquid Retina technology, which closely mirrors the Pro Display XDR, and Pro Motion technology that increases the screen's refresh rate. Apple decided to remove the Touch Bar to make space for full height function keys, with a completely black well for the keyboard. The laptops also bring back MagSafe (now improved to support fast charging), an HDMI port, an SD card reader, and three Thunderbolt 4 ports (which can also be used for charging). These two notebooks bring a long-awaited update on design and support the newest and fastest chips that Apple has made for their Macbooks.