Universal Basic Income: A Solution for Globalization's Growing Pains
Hang on for a minute...we're trying to find some more stories you might like.
If one were to ask a five-year-old what to do about poverty, the idea of giving everyone free money may come up. Although such a solution may seem childish at first glance, a guaranteed income for all citizens, regardless of wealth or employment status, may be just what the world needs to weather economic disparity in the years to come. Particularly, global leaders aim to use universal basic income (UBI) to adapt society to increasing globalization and automation of production. In addition to these rising threats, UBI would help to tackle the global issue of deepening economic inequality. Surprisingly, the concept of UBI is relatively new — in Europe, Finland was the first to test-run UBI for just 2,000 of its citizens, and Switzerland's 2016 UBI proposal was struck down by a 78% majority. Critics have not stopped short of calling UBI a communist fantasy which would leave the population permanently dependent on the state, but there may be hope for it yet. With growing interest in Brazil, Canada, France and even Silicon Valley, UBI may emerge as a necessary remedy for society's most worrisome obstacles.
        In order to understand what UBI is and why it might just work, Finland — the world's testing site for the program — may provide some insight. The country's 2,000-citizen experiment began in Jan. 2017, delivering monthly unconditional payments of €560 ($587) to each of the randomly selected recipients for two years. The catch is, the recipients had to have been receiving unemployment benefits or an income subsidy at the time, but if the program proves to be a success, the Finnish parliament hopes to expand it to include all adult citizens.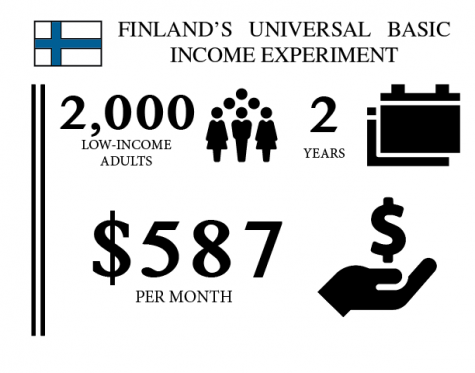 To gauge that success, the government is using two criteria: labor stability and state welfare expenditures. Their thinking process is fairly straightforward: UBI would provide a financial cushion for both citizens at risk of becoming unemployed and for the unemployed to experiment with career tracks which are not immediately profitable. However, the former issue is of tantamount concern for many nations — increasing outsourcing and automated manufacturing are insidiously eating away at the job market. In the next five years, the World Economic Forum predicts that approximately 7.1 million jobs will be lost to automation. Looking several decades into the future, prospects are even more grim; technological advances could mean that many more job positions will become obsolete. UBI stands to make this transition far less painful, and streamlining or even supplanting Finland's highly bureaucratic welfare state could end up saving taxpayers money in the long-run. This idea has garnered substantial support in other countries as well: France's Benoit Hamon recently won the Socialist Party presidential primary, promising to establish a €750 ($810) UBI to be paid for by a tax on industrial robotics if elected.
        But there are some potential complications. A comprehensive application of UBI covering the entirety of a country's adult population would carry a tremendous bill for taxpayers. Many also question whether the government should really be paying the unemployed as much as they pay a multi-billionaire. There is also the increasingly plausible likelihood that citizens will simply stop participating in the job market — in other words, "If you pay people to do nothing, they will do nothing," as Charles Wyplosz, professor of economics at the Geneva Graduate Institute, puts it. Moreover, UBI would exacerbate the existing deterrence to generate income in countries where the rich are already heavily taxed to fund welfare. Nonetheless, supporters of UBI consider these drawbacks irrelevant to the context of the problems they intend to address. If automation and outsourcing are to be the pillars of the emerging global economy, then perhaps we should not worry about a lack of employees.
        So what is the end goal for UBI's fiercest proponents? In the short-term, the world stands to benefit from far less isolationist policy as nations become better adjusted to globalization. Reducing income inequality would also make life better for many people and stimulate the economy by encouraging spending at small businesses. As for the distant future, some supporters imagine a post-work society — that is, "fully automated luxury communism." Although seemingly absurd, such a world would allow citizens to reap the rewards of automated production without needing to work. UBI would certainly propel society closer to this possibility, allowing manufacturers to phase out human labor without nearly as much public outcry. Whether or not that future sounds enticing (or even credible), the world will certainly be excited to see the results of Finland's novel experiment with UBI.