SpaceX Announces 2018 Moon Mission
Founded in March of 2002, The Space Exploration Technologies Corporation, better known as SpaceX, is a private agency that designs and manufactures launch vehicles and spacecraft. On Feb. 27, SpaceX founder Elon Musk announced that the company has plans to send two volunteers on a trip to the moon by the fourth quarter of 2018. NASA will work with SpaceX to organize trials for the spacecraft and the passengers in preparation for the mission.
If everything goes according to plan, the two passengers will board SpaceX's Dragon V2 spacecraft, which will be propelled by a SpaceX Falcon Heavy rocket out of Earth's atmosphere. During a phone conference, Musk stated that the craft would pass the moon closely on one side before venturing further into space, then loop back for another pass on the other side in a circular orbit. The number of orbits will be decided based on the time required for each pass. Four or five days after launch, the V2 will be directed on a return course back to Earth.
Throughout the week-long trip, the V2 will operate autonomously or under remote control, leaving the two passengers free to enjoy the view. However, the passengers will be on standby to resume control in unlikely event of an emergency.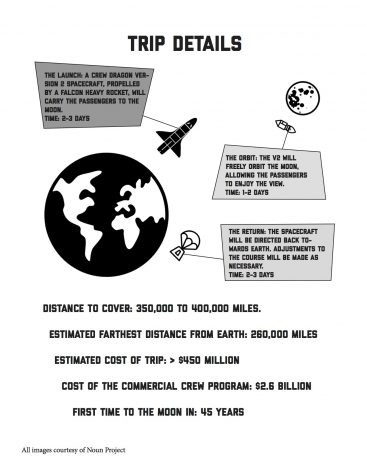 Although SpaceX is the only private company ever to send and recover spacecraft from orbit, it has never launched a manned mission before. Under NASA's Commercial Crew Program, SpaceX must prove that its technology can send humans safely to space. Multiple trials for the V2 will take place starting this November; SpaceX's website states that the company is contracted to perform four trips to the International Space Station over the course of a year, one of which will be manned. Meanwhile, the two passengers will undergo fitness checkups and will be acquainted with the operation of the V2.
Said NASA representatives, "We will work closely with SpaceX to ensure it safely meets the contractual obligations to return the launch of astronauts to U.S. soil."
Nonetheless, some are questioning the ability of SpaceX to achieve its announced deadline without cutting any corners. Both the V2 and the Falcon Heavy are still under development, and the program has yet to receive safety confirmation from NASA. Consequently, Wayne Hale, a former manager at NASA, believes that SpaceX's current schedule is "too aggressive" to be suited for such a mission and warned interviewers that SpaceX would be taking a huge risk even after undergoing the trials.
Said Hale, "Even with today's technology, it's still an extraordinarily difficult, extraordinarily dangerous task to undertake, period — I don't care who you are."
Even if the launch is delayed (Hale says that it is likely), there is a consensus among the scientific community that the mission could determine the future of space travel. Although it is the first time that humans will be sent beyond low-earth orbit (past 2000 kilometers from Earth's surface) since Apollo 17 in 1972, most scientists had anticipated an even longer hiatus until the next wave of exploration. Journalists from Bloomberg and The Verge predict that with SpaceX's sudden decision, small and large organizations alike will be motivated to compete for the new Space Age using their current technologies. This revitalization of exploration along with newfound commercialism may even make space travel a possibility for everyone in the future. For SpaceX, however, this mission will also bring them one step closer to their ultimate goal of sending humans to Mars.