Review: Little Shop of Horrors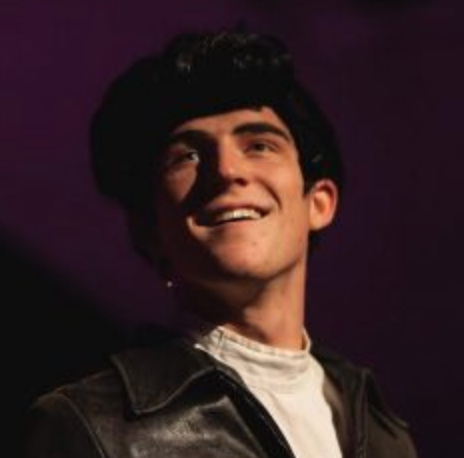 On Nov. 10, the Cupertino Actors Theatre (CAT) opened the weekend with a new rendition of Alan Menken and Howard Ashman's Little Shop of Horrors.
The musical follows Seymour, an awkward florist shop employee, as he discovers and cares for a mysterious plant. He names the plant Audrey II after his love interest, a young woman trapped in an abusive relationship with the sadistic Dr. Orin Scrivello (DDS!). When Seymour discovers the plant's appetite for flesh and blood (and with that, solutions to many of his problems), Seymour faces a dilemma between fulfilling his dreams and resisting temptation.
With two casts, Suppertime and Sominex, Little Shop of Horrors is CAT's first-ever double-casted show. Neither of us had seen Little Shop of Horrors before, though we were impressed by the Suppertime cast's performance on Nov. 10.
Despite these changes in production, CAT has proved that our high expectations have merit. We hated and loved Dr. Scrivello (Sohan Vichare), who had the audience laughing yet recoiling in horror (who knew googly eyes could be so creepy?). The trio of Ronette (Vanessa Schlaefer), Chiffon (Angela Goodman) and Crystal (Suchetha Kalluri) gave the show the streetwise sass of Skid Row.
The directing and the set made for a cohesive show; the props and costumes, especially with the 1960s charm of tacky dresses and beehive wigs, were eye-catching while not being too distracting. And of course, a highlight of Little Shop of Horrors was Audrey II. We were not quite sure how the talking, moving plant was going to happen, but four cast members pulled it off with some fire puppeteering and voicing. We were amazed, even as we mourned the loss of the poor characters who were swallowed by Audrey II.
However, the lighting, at times, did not draw attention to where it was needed most. It was easy enough to follow the important characters and events within scenes, but we were left wondering if that trash can, in all its spotlight, held some deeper meaning that we were missing. The instrumental music also often overpowered the voices of the singers. But despite this and the few off-tune distractions in Act I, the Suppertime cast ended Act II with strong vocals and the resonating reminder to not feed the plants.
Little Shop's theme—having dreams and desires, even when there is no end game—is one we all understand. Seymour's (Kainoa Miller) desire to belong; Audrey's (Sam Kernaghan) inability to leave Orin; Mr. Mushnik's (Kayshav Prakash) desperation for success. These three actors delivered with expression, effective in making the characters' relationships truly believable and showing that we pay a price whenever we give in to greed.
The show we saw was a powerful one; if the following shows (whether by Suppertime or Sominex) are anything like that of the opening weekend, the Cupertino Actors Theatre's Little Shop of Horrors is definitely a shop worth checking out.
Tickets for Little Shop of Horrors (Nov. 16-18) are on sale at the door or online.