Visual Concert 2018 | Band, Color Guard & Orchestra
On Wednesday, May 23, crowds of students and parents gathered at Cupertino High School's Robert Gomez Center to watch the CHS Band, Orchestra, Percussion and Color Guard perform the annual Band Visual Show.
As the last show of the school year, as well as a tribute to graduating seniors and an introduction for incoming members, the Band Visual Show is significant for all performers. This year's theme was movies, and the performance featured songs from a variety of films, including The Greatest Showman, La La Land, The Avengers and Superman. As per tradition, the seniors selected a song, Justin Timberlake's "Can't Stop the Feeling" from Trolls, to close the night.
"The visual concert serves as a reminder that the year is ending and marching band is starting again," senior mellophonist Shaw Kagawa said.
Additionally, the visual concert's distinct style sets it apart from other performances. "Compared to other shows, this one is more unique and fun in my opinion because we aren't just sitting down and playing music; we also incorporate visual movements and effects," sophomore saxophonist Oliver Richard said.  
Preparation started a month before, during which the students worked hard to learn the music. However, there was more to the process than just learning notes. "After we got the fundamentals down, we started focusing on style elements, like phrasing, expression and energy, to help communicate our music to the audience," junior alto saxophonist Ryan Mohta said. Then, for the two weeks leading up to the show, performers dedicated entire periods and even after-school hours to practice. Said sophomore alto saxophonist Namya Rad, "A lot of preparation went into this show … the after-school practices lasted about two to three hours."
In addition to rehearsing, the non-seniors made extra steps to commemorate the graduating seniors. Said junior bass clarinetist Diane Cho, "We took time off our lunches and tutorials to assemble posters, gifts and flowers as a group … this is a way to recognize the seniors and give them their last special moments as a band, orchestra or guard member."
Their efforts paid off; they delivered a smooth concert, and audience members found it highly entertaining. Said sophomore Jake Papas, "One thing that stood out to me was the fact that they choreographed moves to enhance the music aspect. The moves were very unique."
Even though the Band Visual Show, a joint effort between all the musical ensembles on campus, requires great time and commitment, Cho believes the collaboration between the three distinct groups is what makes the show special.
"[The other musical groups] contribute so much musically and visually, and I think it is truly worth all the after-school practices because the result is phenomenal," Cho said.
Leave a Comment
About the Contributor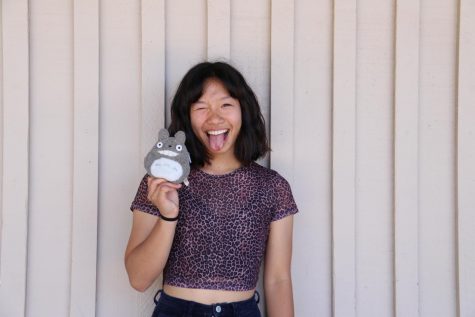 Sydney Liao, Photo Editor & Social Media Manager
Grade: Senior

Hobbies: Reading, Photography, Skateboarding, Piano

Songs that I've memorized: All Too Well by Taylor Swift

Favorite Book: Six of...