COVID-19 Activist: Eunsu Lee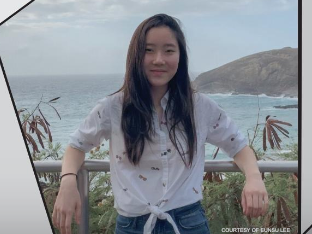 With the issue of the coronavirus touching almost every part of the world, it's crucial that steps are taken to contain the pandemic and help those in need. Junior Eunsu Lee has already begun taking steps to help those in Wuhan.
Her idea was sparked by Mr. Cheung. 
"I first had the idea to fundraise and raise awareness for COVID-19 when Mr. Cheung talked to his classes about the supply shortage in Wuhan," said Lee. "He mentioned that he had a contact who could possibly ship whatever supplies have been gathered directly to facilities which needed them, I figured that the student population at Tino would be able to help the cause in some way, as supplies such as masks were more accessible to us."
Lee discusses how the effort evolved over time, working to combat issues like mass panic and overbuying.
 "Initially, we wanted to hold a supply drive in which people brought in packs of masks, as we had a reliable method of transportation to hospitals which needed them… We then decided to hold an online donation drive through an accredited organization called MedShare… they use the funds to supply hospitals and clinics directly." 
Lee, a current officer of Unicef, has worked to include other clubs in the initiative to broaden the impact.
 "I felt that members of other health-related clubs would be as passionate as I was about helping the cause," explains Lee, "I reached out to three other health-oriented on-campus clubs and met with the officers to organize the fundraiser in an engaging manner – a competition between the clubs." 
The four clubs – Cupertino Global Health Club, Red Cross, UNICEF, and Student Doctors plan to compete to garner the greatest amount of money and win the contest.
"Through the effort, the health clubs are hoping to gather as many contributions as possible to assist the Coronavirus initiative. Ideally, each participating club will raise 50$ each for a sum of 200$, but any amount will help!" said Lee. 
As the virus drew nearer and touched our community, the effort began to become more personal for Lee.
"Most of my extended family lives in Korea, so I am hoping to do whatever I can to alleviate the situation, no matter how insignificant the contribution may seem to be. The fundraiser is a work in progress – we are still gathering input from clubs in order to announce the initiative – but now that CHS itself has closed due to the number of COVID-19 cases in Santa Clara County, I feel that more people will be made aware of the need for medical supplies and support."
Rather than identifying as an activist, Lee views the issue from a community lens, saying, "There are many great club officers and club members who are taking part in this campaign and are equally as passionate as I am about making a change. The initiative is a group effort, and we are extremely thankful for anyone who is willing to take part in it!" said Lee.