Playing on COVID's Field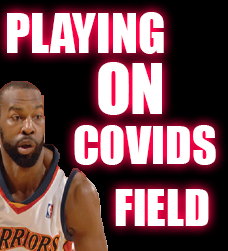 Since this past spring, sports season and the current school year have seen a complete flip in the sports scene at Cupertino High School and worldwide. Because school was closed down, many sports teams and clubs were forced to end their season early. Others cancelled their season altogether. Summer outdoor conditioning used precautions such as having smaller groups, keeping players six feet apart, and even separating groups while conditioning. After a month-long summer conditioning for fall sports like field hockey and football, the Fremont Union High School District halted all activity on July 21, 2020. The Fremont Union High School District has decided that sports will tentatively start December 2020. The sports seasons will be cut short and will feature more sports during the Winter and Spring seasons, with most fall sports being played during the winter.
Arjun Rao, a senior, has been on the Cupertino High School varsity swimming team all throughout high school and had his swimming season cut short last year. He has also been on the DACA national team since eighth grade. Swimming has played a central role in his high school career. Said Rao, "When our club closed down, we could do 'dry-land' workouts but I decided apart from that, I'd go biking and working out a lot at home, outside of the pool. They [DACA] would send some workouts but everyone on the national team takes responsibility for staying in shape because [we] want to stay in shape." He further explained that "these past two or three months we have been working to get back into racing shape, but we still don't know how meets are going to work. We are just working towards being able to race at any time so that colleges can see." His experience through the pandemic has been quite different from many athletes: he has had to focus not only on staying in shape for his team but also staying in shape in case an opportunity arises to be recruited by a college. His recruitment journey has been put on hold since February in what he described as a "freeze period," during which colleges could no longer recruit athletes. The sudden stop in recruitment has left Rao motivated to come back better and has further pushed him to stay in shape.
The national sports world, especially the NBA, has also taken a huge hit during the COVID-19 pandemic. In a normal NBA offseason, players would go to gyms to work out, sharpen their basketball skills, and practice with full contact. However, after Rudy Gobert of the Utah Jazz tested positive for the coronavirus, the NBA season prematurely entered the offseason. Right when players were preparing to compete in the NBA playoffs, they were forced to switch to life in quarantine with little to no access to a gym or basketball facilities. Many were limited to doing basketball drills at home without any contact to follow social distancing guidelines. Because of this, muscle groups that can only be trained through full contact practices and games likely weakened, putting players at risk of injury. When players arrived at the NBA bubble in Orlando, Florida, they had to quarantine before being cleared for practice, which further delayed the start of practices. In addition, since 22 teams were in the bubble, not all teams could hold training camp practices simultaneously because of space constraints. This limited training opportunity and rushed players' conditioning, which made them more injury prone. Players reported feeling sore after their training camps because they needed to get used to full contact training after not playing for four months. Many others suffered injuries that forced them to sit out for a few games, or in worst cases the rest of the season.