Tackling the Pandemic – The CHS Football Team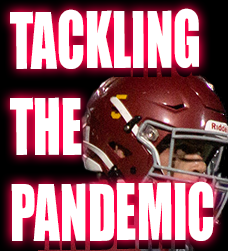 Sports have always played an integral role at Cupertino High School. From the annual helmet game to late-night basketball nail-biters, sports have fostered traditions on the Cupertino campus that remain as nostalgic memories even after graduation. Postponed by the recently adopted distance learning model for FUHSD schools, sport seasons will be deferred until December when school is expected to resume in person. 
James Gilmore, Cupertino High School's athletic director, expects that sports will be modified to account for the delay of their seasons. 
Said Gilmore, "As long as we return to school in January, we can start […] with games as soon as December 28. [… ] Right now, we are still planning on having every single sport but they are condensed from three seasons into two seasons with a slightly staggered start date for most of them." 
Another aspect of sports which is directly impacted by distance learning is the allocated financial budget. 
"The revenue from the gate sales contributes to our overall funds […] and so do ASB card sales.  [ASB card sales] are really important. […] Even if you are not going to use the ASB card as much as you would have in the past, because we might not be able to go to games, it helps keep all the programs, not just athletics, afloat. […] Without any money coming in, we won't have any money for the coming years so we need to be frugal in how we budget," Gilmore said.
However, scheduling and monetary proposals haven't been finalized yet due to the unprecedented nature of school policies. Gilmore explains, "If we don't go back to school in January, then [the school] is going to cancel everything. We are not gonna have athletics this year."
This is devastating news for athletes who have been training hard and looking forward to their seasons. 
Said varsity football wide receiver Shiwoo Lee, "With football you can't really play after high school unless you plan to play collegiate or professional so you only have four years to play. […] Missing just one year is a big deal." 
Chris Oswald, long-time coach of the football team, parallels Lee's opinions."Football allows a sense of freedom. […] If we get the opportunity we'll play [the season] backwards; We'll have senior night the first week because we never know when the athletic leagues will shut down. […] I don't want my seniors who have done everything I've asked to be stripped of their crucial experiences." 
Lee and many of the other Varsity football players have been practicing rigorously in preparation for their season. As a current senior who has devoted himself to football for the past six years, Lee states that getting the opportunity to play "would mean the world to me". That could apply to every student on campus, spectator and athlete alike.