Afghan Refugees in the Bay Area
Following the Taliban takeover of Afghanistan, several humanitarian non-profit groups expect to resettle refugees in Bay Area communities. 
After a two-decade war between the U.S. and the Taliban regime, Afghan President Ashraf Ghani fled the country on August 15, 2021, as the Taliban militia seized control of all major cities. Thousands of Afghans rushed to Hamid Karzai International Airport in Kabul, desperate to flee the country.
Meanwhile, humanitarian organizations in the Bay Area hurried to prepare for the incoming influx of refugees. Among these non-profit groups was Jewish Family and Community Services East Bay (JFCS), located in Berkeley, California. Since its founding in 1877, JFCS has been resettling refugees in communities all across the country.
"
We anticipate that we're going to see 200-300 more people over the next few months"
— Robin Mencher, Executive Director of JFCS East Bay
Robin Mencher, the Executive Director of JFCS East Bay, said, "So we've already resettled, I think, over 60 people at this point, and we know for certain that we have 100 people total who have been assigned to us. We anticipate that we're going to see 200-300 more people over the next few months."
Prior to the unprecedented events at Kabul, JFCS East Bay followed an arranged 90-day resettlement process authorized by the U.S. government, beginning with furnishing a home and assigning a case manager for the immigrant individual or family. Once arriving in the states, immigrants followed a prescribed process over the three months, including setting up documentation, medical and social service benefits, social security numbers and acculturating to the United States.
With the rapid increase in Afghan refugees seeking resettlement, much of the process has been altered due to lack of time. Resettlement workers are often given only one to two day's notice before the arrival of refugees, in contrast to a reminder a couple of weeks in advance. Meaning, many refugee families are placed into temporary housing until a new home can be found and set up.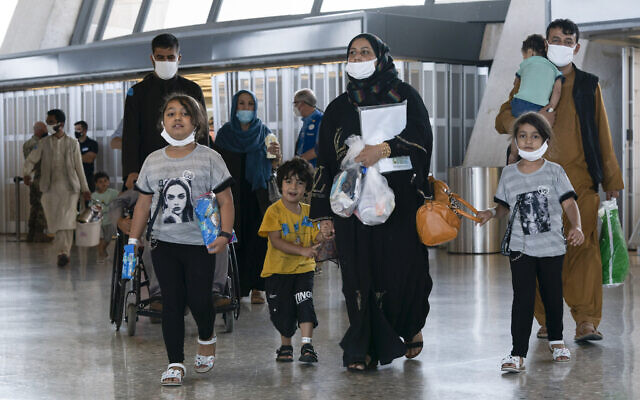 Said Mencher, "Here in the Bay Area, we have a housing crunch… being able to find enough homes and apartments for all of our new arrivals when they're all coming here at the same time is a bit of a challenge."
Mental health needs from the lasting trauma of the situation in Afghanistan also present a major issue within the Afghan refugee community. 
Said Mencher, "The things at the airport are incredibly hectic… they have traveled all over the world to a variety of different military bases until they finally arrive here, and that has been, with the fall of the Afghan government, a particularly traumatic process for our new neighbors."
For many of the workers at JFCS East Bay, the resettlement work hits close to home. 
"The majority of the people who work in our refugee resettlement team are from Afghanistan and came to the U.S. and to the East Bay as refugees themselves," said Mencher. "So we have staff members who are serving the folks who are coming, while at the same time hoping that among the new arrivals will be their family members."
"
They come from a very strict Muslim culture to one that is much freer. Women now have to work, which they couldn't back in Afghanistan"
— Mindy Berkowitz, Executive Director of JFS Silicon Valley
Another humanitarian group dedicated to helping the resettlement of Afghan refugees is Jewish Family Services of Silicon Valley (JFS), a social services organization based in Los Gatos, California. 
Mindy Berkowitz, the Executive Director of JFS Silicon Valley, says, "We're actually preparing for up to 200 refugees to resettle." Said Berkowitz, "We're arranging for below-market-rate housing, coordinating with our national resettlement agency, hiring additional staff and raising money to support this major operation."
Like Mencher, Berkowitz anticipates challenges in the adjustment of Afghan refugees to Bay Area communities. The rising cost of living rates in Silicon Valley and other parts of the Bay Area make it difficult for refugees to become self-sufficient after losing government benefits. Cultural and religious differences present assimilation problems, especially in regards to gender norms.
In data from World Values Survey Wave 7 (2017-2020), 78% of respondents in Afghan ethnic groups agreed with the statement, "When jobs are scarce, men should have more right to a job than women," in comparison to 9% agreement in the United States.
Said Berkowitz, "They come from a very strict Muslim culture to one that is much freer. Women now have to work, which they couldn't back in Afghanistan." 
 Despite the challenges, Mencher believes that local communities grow stronger with the addition of immigrants who bring a variety of ideas, skills, and experiences.
 Said Mencher, "While the circumstances of why people are leaving their homeland [are] devastating, and while the newcomers are coming in situations that will take them a while to get back up on their feet, I think all of the communities are enriched by welcoming and being welcomed when newcomers come to our community."
Moreover, the importance of empathy is more pertinent than ever as local communities await significant changes. 
"Because a few of these folks might end up in your high school or in your neighborhood… just recognizing that we're all more alike than we are different and helping spread that message will probably go farther than you can imagine," concludes Mencher.