Via Shuttle Program
As cities worldwide shift towards greener, more efficient forms of transportation, the City of Cupertino is no exception with its recent adoption of the Via-Cupertino Shuttle service. Via intends to optimize transportation and reduce carbon emissions. The service offers Cupertino residents an inexpensive and environmentally friendly way to navigate the city through a fleet of electric vehicle shuttles.
The shuttle service, which operates from 7 a.m. to 7 p.m. on weekdays and 9 a.m. to 5 p.m. on Saturdays, was first introduced to Cupertino in October 2019; however, it was forced to suspend operations after the emergence of COVID-19. 
According to Senior Transit and Transportation Planner Chris Corrao, the program started over three years ago.
 "There [was] a lot of community concern about traffic and congestion," said Corrao. "So one of the ideas that the city had been talking about for a long time was doing a community shuttle." 
Recently on Oct. 22, the city announced that it would relaunch the program and once again offer the transportation service to the general public with the aid of heightened sanitation measures.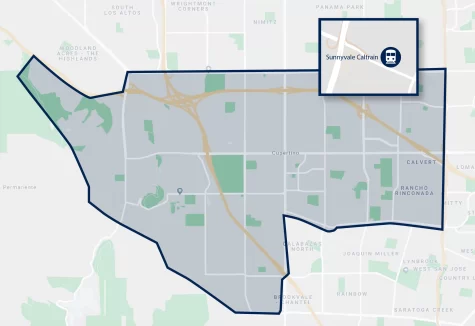 Via-Cupertino currently uses nine modern electric vehicles to conduct their rideshare service. The shuttles, easily identifiable by their white and blue Via logo and City of Cupertino emblem, offer service to a large portion of Cupertino, including popular destinations such as Rancho San Antonio, Apple Park and Main Street. The shuttles allow residents to access parts of the city without needing a personal vehicle which can be both costly and detrimental to the environment. 
Said Corrao, "Cupertino residents can benefit mostly [from Via] because it's really affordable and it's really efficient, meaning it's quick and convenient." 
According to Via's website, the app utilizes advanced algorithms to "direct passengers to a nearby virtual bus stop within a short walking distance for pick up and drop off, allowing for quick and efficient shared trips without lengthy detours, or inconvenient fixed routes and schedules." 
To get started with the service, users first need to download the Via app, which is available on both the Apple App store and Google Play. Then, users must create an account with the platform. After doing so, riders can select a destination within the service's coverage area. Via will direct passengers to a nearby pickup location in a process reminiscent of other ride services such as Uber or Lyft. The service is entirely cashless and automatically charges riders on a provided credit card without any need for user input. Children between the ages of 13 and 17 can ride independently, given parental consent, while younger riders must have parental supervision to be eligible for Via. 
The Via-Cupertino Shuttle service offers different pricing options depending on the service. A one-way fare will cost $3.50, while a weekly pass will cost $25. Via provides discounts for select individuals, dropping the price to $1.75 for a one-way fare and $14 for a week pass. This offer includes seniors over 65, students, low-income individuals and individuals with disabilities. 
In addition to the numerous traffic and congestion issues that Via helps alleviate, Cupertino residents can also look forward to the service reducing transportation carbon emissions.
Said Corrao, "We did a lot of analysis and provided a lot of data to the state to get a new grant that we just won. It's an $8,465,000 grant that will fund our programs for five years and fund that conversion to electric vehicles. And now we're there. We estimate over five years that we will reduce 76,000 metric tons equivalent of CO2."
As more and more people begin using Via in Cupertino, the future of the shuttle service is looking bright. In addition to increasing its current fleet from nine electric vehicles to twelve, the city plans to expand the range of service to nearby towns in a two-phase process. Phase one of the expansion will stretch the service area to encompass parts of Santa Clara, east of Cupertino, and Via announced it will launch in 2023. Phase two looks to offer coverage to parts of north San Jose and will begin in 2026 if funding permits.