HBO's My So-Called High School Rank (ft. CHS)
Given Cupertino High School's reputation for academic prowess, it seems appropriate that the school's 15 minutes of fame arise in a documentary regarding the assortment of stressors students experience. 
On Nov. 29, HBO released "My So-Called High School Rank." The film follows "RANKED,"  a musical that explores the adversities high schoolers encounter in hopes of receiving acceptance to prestigious universities. Simultaneously, the documentary illustrates the lives of high school students in three fundamentally disparate communities as they navigate academic pressures while also staging a musical that runs in tandem with their everyday lives. This film features scenes captured on the Cupertino campus and spotlights students from the Cupertino Actors Theatre who planned on performing the show until the COVID-19 lockdown upended their production.
The musical was first brought to life in 2019 by the Granite Bay High School drama department in Sacramento. The play is centered on student experiences, following several talented but anxious high schoolers as they compete for the highest ranking and admission to the most distinguished schools. 
One affected student who has felt this pressure is CHS senior Andrew Posadas. With the release of "RANKED" in his freshman year, Posadas found solace in the play, knowing that many students faced concerns analogous to his own. Relocating from the educational system in the Midwest to the Bay Area – a place where academics held more popularity than clubs and other activities – served as a major cultural shift, making it difficult for Posadas to adjust to a new lifestyle. 
"And then to have something like "RANKED" come out. I already knew a lot of seniors who were slaving over their work every single day. Day in and day out, when I just wondered if I was actually even going to graduate," Posadas said. "I would always wonder, and I would always think: why can't I be like this? Why can't I be like these other people? And it gave me this mindset of wanting to fit in because I felt so left out from everyone else. It took me until junior year to realize I don't have to give a [expletive] about any of that." 
The play was well-received after its premiere, and as word of "RANKED" spread nationwide, Arcadia Conrad, Cupertino's Theatre Program Director, reached out about staging the musical. Upon receiving approval, the drama department spent months working toward putting on the show. 
Many CHS students believed this was where the school's involvement with the play would end. But in the fall of 2019, HBO camera crews set foot on the Cupertino campus and began shooting scenes for the documentary. HBO was initially only collaborating with Granite Bay – the first school to host the musical – and reached out to Conrad in pursuit of more schools to spotlight. Upon meeting with Ricki Stern and Annie Sundberg, producers and directors of the documentary, Conrad was provided with a broad idea of the film. Originally, "My So-Called High School Rank" was inspired by the college admissions scandal of 2019, and the documentary would showcase a general following of students at CHS. But in the fall of 2019, HBO camera crews set foot on the Cupertino campus and began shooting scenes for the documentary. More specifically, these camera crews followed CAT students as they went about their daily lives, including then-junior Senih Okuyucu. 
"They were really just everywhere. They'd follow [us] throughout the halls, and I was like, 'Oh, my God, Senih, you're famous,'" Okuyucu said. "​​There were definitely some classmates who didn't like the attention, and even at rehearsals, they're like, 'Well, it's hard to perform when there's a camera crew following you around.'"
With costumes and sets ready, excitement grew for the showcase of "RANKED." Conrad expressed that the production, coupled with the film crew capturing intricate aspects of the academic culture at CHS, was an exhilarating experience. Unfortunately, the spread of COVID-19 induced a nationwide shelter-in-place merely days before opening week, halting all production of the play. All of a sudden, the entire focus of HBO's documentary was forced to shift as the drama department was no longer able to meet in person.
"The day that they shut the school down, and the day that they shut the musical down, was easily one of the worst days of my life," Conrad said. "But they captured that with humility, grace and compassion."
Instead of scrapping the footage or waiting for the eventual reopening of CHS, Stern and Sundberg continued to procure footage capturing students' lives in isolation, requesting CAT students to send video diaries of life during the lockdown and college-related content. HBO's film crew remained on and off at CHS, returning to cover the drive-through graduation hosted later in the year. They continued to follow a few students on Zoom on separate arrangements and agreements once the school could no longer accommodate them and came back in the fall for final follow-ups. 
Supplied with coverage of these newfound circumstances, the documentary strayed from its initial emphasis on the academic world. It broadened to incorporate the narratives of high school students living through the pandemic and the social movements born in 2020, namely the resurgence of the Black Lives Matter movement. 
The play's theme remains relevant to the attitudes around academics at CHS. The way that "RANKED" so closely mirrors life at Cupertino attracted Stern–she believed the play simulated Cupertino's environment to a tee, explained Okuyucu. "I feel like Cupertino is so much more above and not beyond. […] It's cutthroat," Okuyucu said. 
Leave a Comment
About the Contributors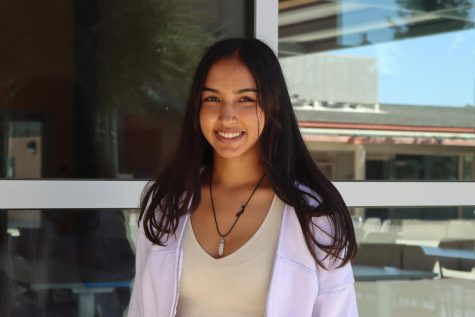 Sania Mehta, Website Manager
"What is most important to you?"

Although ever-changing, the simple yet profound concept of time is indubitably my most prized possession. Time exists...
Anika Rao, Writer
"What is most important to you?"

i'm literate