Santa Clara County Fights Fentanyl Crisis
Examining the response to county-wide fentanyl overdoses
Santa Clara County faces an ongoing battle against surging fentanyl overdoses in its first quarter of the new year.
Fentanyl, a highly addictive opioid prescribed as a severe painkiller, has taken the nation by storm over the past decade. The drug is cheap to manufacture, and small amounts can have substantial effects — around two milligrams of fentanyl can be lethal, according to the Drug Enforcement Administration. For this reason, drug dealers often mix fentanyl with other illicit drugs, such as cocaine, heroin or ecstasy, so the user can experience the same effects of the drug while the dealer pays a fraction of the price.
In SCC, 68 died of fentanyl overdoses in 2020, and 135 died from January to November 2022, according to recent county data. Over the first two weeks of March 2023, 13 inmates at the Elmwood Correctional Facility suffered fentanyl overdoses, with one deputy and two nurses treated for exposure to the drug. The inmates were treated with Naloxone, also branded as Narcan, a nasal spray designed to rapidly reverse the effects of an overdose.
With steep numbers of fentanyl-related medical emergencies, the county is actively working to fight crises related to the drug. On April 4, the SCC Board of Supervisors unanimously voted to make Naloxone available at all county libraries and train librarians on administering the drug. The board took a similar action in late 2022, allocating $135,000 to Naloxone distribution in high schools.
Cupertino High is on the list of high schools that benefit from Naloxone distribution funding. As of April 2023, staff trained to use Naloxone include Health Clerk Katelyn Watts, Student Conduct Specialist Pete Hernandez, Backup Health Clerk Lisa Moore and Assistant Principal/Designee for Student Behavior Steven Puccinelli.
Said Puccinelli, "If we have to respond out to somebody who we think is having an overdose, we have somebody to supply that."
Naloxone on campus is only to be used by staff in response to an overdose that occurs on school grounds. However, on March 29, the Food and Drug Administration approved Narcan as an over-the-counter drug, meaning more individuals will be able to carry the nasal spray in the coming months.
Along with carrying Naloxone, CHS and the Fremont Union High School District offer several courses of action to students that struggle with drug usage. 
"We find them wherever they're doing that, we bring them in, they're under the influence, we will send them home for the day," Puccinelli said. "Because if you're under the influence, you're not in a mental or physical state to be safe or participate in education for the day. And then we will follow up with additional supports or consequences, which can range from a Saturday school for a more punitive [approach], like, 'Hey, we've talked about this before, you got to get in your head this is not okay to be doing.' It could be more therapeutic and supportive. If it's a case where [the student is] feeling really depressed […] then we might get the school-based therapists involved."
Leave a Comment
About the Contributor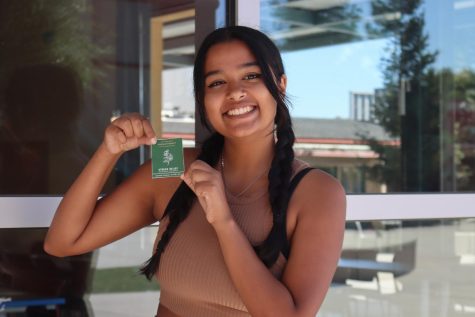 Taruna Anil, Investigations Editor, Copy Editor
"What is most important to you?"

Self care and assessment is super important to me. I light this Bath and Body Works candle whenever I'm studying...