Black Women in Music
Examining a history of disrespect and discrimination faced by Black women in the music industry
WRITERS NOTE: It is important to acknowledge that Black music history is multifaceted and cannot be constrained to one article. If you want to contribute to this article, submit a Letter to the Editor. 
From the trailblazers of jazz and blues music to the R&B and rap icons of 2023, Black women are the backbone of the music we listen to today. But these changemakers' influence too often goes unnoticed by music giants and the general public. With Nicki Minaj's 10 nominations at the Grammy's without a single win — despite raging commercial success and critical acclaim  — to the meme responses after Megan Thee Stallion was shot, Black women are faced with instances of disrespect almost constantly. These are only a few recent examples, but prejudice against Black women, whether covert or overt, runs deep in the blood of the industry. 
Misogynoir, a combination of the words "misogyny" and "black" in French, helps explain this phenomenon. Defined as discrimination and prejudice against Black women, it was coined by feminist writer Moya Bailey to discuss misogyny against Black women in Hip Hop. Common instances of misogynoir include artists going uncredited for their contributions to music, the lack of empathy for Black women and degradation by their male counterparts.
"The world treats Black women as a resource," Juliana Pache, a contributor for The Fader magazine, said. "A lot of us know that the world will only value us if we are producing something, which probably contributes to why we work so hard. We go above and beyond in everything that we do." 
Black female musicians are often reduced down to one characteristic or trope — hypersexual, empowering or androgynous, to name a few. Breaking this mold generally results in an unempathetic public response. The most recent and notable example is the social media reaction to Tory Lanez shooting Megan thee Stallion. Even before speaking out about who shot her, she was the butt of many jokes and memes online and showed heinous disrespect. Treva Lindsley, a professor at the Ohio State University specializing in women's, gender, and sexuality studies, attributes the public reaction to the archetype the media has forced onto Megan thee Stallion.
"She has a persona as 'thee Stallion,' is assertive, dynamic, a 'take control' person, and she's the 'hot girl coach,' so she's not allowed any vulnerability," Lindsley said in an interview for Vox. "There's no sense of needing to protect Megan."
But the disrespect does not stop online — it seeps into how we recall music history. Even in a genre pioneered by Black Americans, the women who gave the genre a platform are disregarded as a significant part of music history. 
The Blues genre originated in the Deep South around the mid-19th century, stemming from the oral traditions of enslaved persons and ultimately finding a more concrete form through musicians' individual choices. Mamie Smith, a Black female artist from Cincinnati, was the first African American to make Blues recordings. Her initial success created the Blues craze in the U.S., though Mamie Smith failed to find commercial success after. Today, the influence of Blues music can be found in modern genres such as R&B, Hip Hop, and Rock N Roll. But Mamie Smith was laid to rest in an unmarked grave for 67 years, unrecognized by the general public as a pioneer in modern music and overshadowed by the male Blues musicians that came after her. 
The examples presented illustrate the importance of understanding the roots behind the music we listen to today and of challenging the way many perceive Black women. The next time you shuffle your playlist — whether your favorite genre is KPop, R&B, Rock or Hip Hop — think about the Black women who transformed these genres. Remember the influences of Missy Elliot, Queen Latifah, Billie Holiday, Lauryn Hill, Mamie Smith, Billie Holiday and countless other Black women who changed the game. Remember all facets of their character and legacy, not just the stereotypes placed on them. The more we say the names of the Black artists that many overlook, the more we cement their places in music history. 
Leave a Comment
About the Writer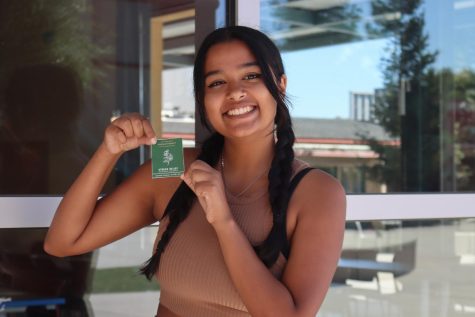 Taruna Anil, Investigations Editor, Copy Editor
"What is most important to you?"

Self care and assessment is super important to me. I light this Bath and Body Works candle whenever I'm studying...