Career Fair 2017
Hang on for a minute...we're trying to find some more stories you might like.
On Feb. 3, Cupertino High School hosted its fourth annual Career Fair with the hope of galvanizing students to explore the many available job opportunities in the future. A total of 64 volunteer speakers delivered three 25-minute presentations to interested students, describing the prerequisites, procedures and benefits of their jobs. Many of the students who stayed after the presentation had the chance to receive personalized advice from the speaker.
Engineers, managers, educators, writers, researchers, health-care specialists, government workers and entrepreneurs spoke passionately about their fields and urged students to start working toward their futures.
Said Trimble Navigation Ltd. engineer and Career Fair speaker Eric Krantz, "It is always favorable to start learning early, especially for fields that seem intimidating and complex."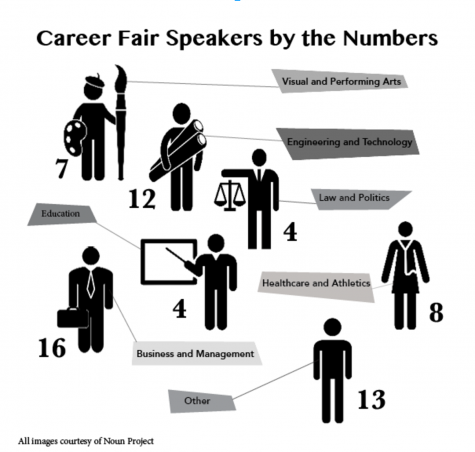 After the students participated in the Career Fair, they were asked to complete a brief
survey regarding their thoughts on the event. Responses to questions concerning students' interest and engagement helped the administration assess the effectiveness of the event. In past years, CHS students responded positively on the survey. For example, according to the data collected from last year's survey, about 65% of students ranked the Career Fair as being very or mostly helpful.
The administration also made efforts to address the negative feedback received during past fairs. For example, a significant number of students expressed disappointment in not being able to hear from the FBI agent due to a lack of space. In response, the administration placed the FBI agent in a room twice the size of a regular classroom.
However, a lack of classroom space may not be the only inconvenience that comes with the Career Fair. Administration reserved the swimming pool parking lot for the speakers, forcing many students to search for a residential parking location instead.
Furthermore, the abnormal bell schedule caused confusion and inconvenience for many classrooms. For example, some students without a first period showed up late to second period and some teachers had to cut down on their lesson plans. Despite this, the administration asks that the CHS community approach these setbacks with the benefits of the Career Fair in mind.
Said Melina Nafrada, an administrator who helped organize the Career Fair, "We do hope that these inconveniences may be considered to be minor when compared to the benefit that the students get from the Career Fair. We do this for the students so that they can learn about options for their future."
Ultimately, the administration and teachers hope that the Career Fair prepares students for the future by exposing them to a variety of paths they can choose from. "When you are in high school, you have very limited options as to what you want to do." CHS math teacher and Career Fair speaker Julia Roberts said, "You are exposed to math, history and English, but very few people actually become mathematicians or historians. But [the Career Fair] helps expose people to a range of jobs like Data Analytics or Computer Engineering. And hopefully, that gets them thinking about what is fun for them and about what is out there."