Column: Aashna's Dancing Experience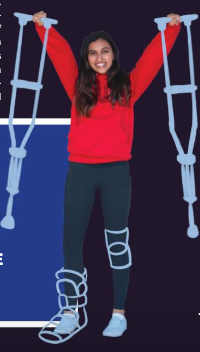 The powerful beats of the tabla made my heart thud alongside it, and the saccharine scent of Indian sweets wafted around the decorated hall. During my favorite festival, Navratri, my friends and I would spin aimlessly in our sparkling chaniya skirts for hours. At the age of three, I was under the impression that dance simply consisted of jumping and twirling, and my excitement surrounding it drove me to join dance classes.
I'd spend as much time as possible dancing, whether it was in my garage or at a studio. I dedicated myself to learning different styles, and I found a love for it that I had never found for any other activity. As a child, I lacked pride in my South Asian heritage, but dance was a form of self-expression, and allowed me to embrace my culture. 
As I grew older, however, I began to notice my ankles ache after practices and performances. Every doctor I visited called it "growing pains," which irked me to no extent. I was certain that there was more to it, that there was something wrong with me, but I couldn't get an answer. After months of waiting, I got an appointment with a specialized podiatrist, who diagnosed me with femoral anteversion and protonation in both of my ankles, which had led to the persistent, radiating pain I had been feeling. I learned that my ankles were carrying a larger proportion of my body weight than what was healthy, and as a result, I was more susceptible to injuries.
For years, dance had been the one activity I committed to. When I learned that it could make my condition worse, I distanced myself from it, afraid to dedicate myself to an activity in which I could not succeed. This fear of failure led to me quitting dance for two years, during which I tried and failed to find another activity I was passionate about. In my freshman year, however, I attended a meeting for my school's south Asian club, Tino Dhadkan. As I saw my older sister speak so passionately about the dance team, I realized that I was ready to rekindle my love for dance despite the likely challenges.
When the doctors said that I would be more prone to injury, they weren't wrong. Over my four years of high school, I tore a knee ligament, sprained my ankle twice, and fractured my foot right in the middle of a dance audition. I became known for being so injury-prone, which was something that my friends and I often laughed about. Even though my injuries meant I had to work twice as hard to catch up, it taught me to persevere, and most importantly, to fight for what you're passionate about, regardless of circumstances and setbacks. 
Tino Dhadkan has allowed me to make some amazing friends, brought me closer to my Indian heritage, and given me some truly memorable experiences. These four years of show days, bondings, and morning practices have given me purpose and taught me lessons that'll last a lifetime. I've learned that there will always be obstacles in your way, but it's up to you to keep going and jump over them–hopefully without injuring yourself.