Teachers As Essential Workers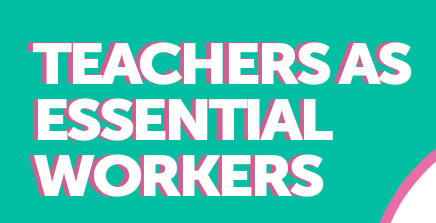 Due to the current pandemic, teachers are now considered essential workers. As of August 20, to encourage in-person learning, the White House declared teachers as essential workers, now requiring them to continue to work, even after being exposed to COVID-19. 
Ever since the start of the pandemic, students have reported that school has become more difficult for both teachers and students. They have had to adapt to new formats of online education, dealing with a multitude of different issues. These issues have included technology and time management, as online schooling has given students much more leeway.
Said Joshua Cheng, a student at BISV,: "School has become harder since the start of the pandemic., I feel disorganized and find myself procrastinating very often." 
Along with the student's' difficulties in adapting adaptations, there have has also been a fair share of teacher struggles, as they have had to learn how to teach a group of students that they may have never even seen in person,
Said Anurag Paudel, a student at Cupertino, "Teachers are facing a lot of the same issues as we students do regarding the transition to online schooling, added on to the fact that they have to deal with teaching without being in front of us physically. They have to make things more interesting so that students pay attention."
Teachers being considered essential workers has become both a risk and an homage to the struggles that teachers must face during this crisis, as society realizes that they are, in fact, very much needed. 
Although being an essential worker is a risk, schools everywhere, such as in Cupertino, have taken the necessary precautions to keep teachers safe, including transferring education to an online-based system.
This has become both an honor and a risk for teachers across the United States. As society continues to adapt to the current pandemic, essential workers such as teachers have become critical, opening people's eyes towards how vital teachers are to our community.