Sports Feature: Eric Ferrante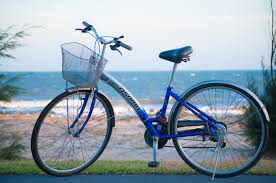 Unlike most teachers on campus, JAVA, and AP Computer Science teacher, Eric Ferrante leads a uniquely active lifestyle. Being situated in Santa Cruz, Mr. Ferrante enjoys going surfing through the crashing waves of the Pacific Ocean. 
"Surfing is one of those sports that you have to keep doing to improve. It's super common in Santa Cruz, and I've been doing it for five years " said Mr. Ferrante.
Along with a passion for surfing, Ferrante also indulges himself in biking. He would often bike to CHS from Santa Cruz, accumulating a long 64-mile journey there and back. Ferrante began to bike during his days at UC Davis, where students use bicycles as a primary form of transportation.
"No matter what the weather was at Davis, rain or shine, I would bike anyway. I biked everywhere all the time, just because it was easier than a car, and parking cars can seriously be annoying. So for four years, I biked around Davis full time, " said Ferrante.
Bike touring is when someone bikes a long distance from one location to another for fun, each tour often ranging from a few days to a few years. Ferrante's biking hobby began to peak when he went on his first bike tour, which consisted of a journey from San Francisco, California, up north to Portland, Oregon. 
"The journey is about 100 miles, and it follows Highway 1 the whole time. Throughout the ride, we camped out at campsites, which was cool since we were able to interact with other bikers. I enjoyed meeting new people and just having a good time," said Ferrante, "Since then, I've done around 20 bike tours. One of the most memorable bike tours I've done is in Quebec, which has its bicycle highway system route that is thousands of kilometers long. It's great, and they even have bicycle huts along the way where you can stay for free like a hotel."
The different people Ferrante meets on the bike tour all come from different walks of life and backgrounds. Some have been out bike touring for months at a time, and he gets the opportunity to meet fascinating people and hear their experiences.
Aside from the bike tour excursions, Ferrante began to incorporate biking into his daily life, as well. Social Studies, ELD, and Engineering teacher, Scott Keller, has motivated Ferrante to accompany him on his goal of biking for a total of 2,500 miles by the end of 2019. 
"The 2,500-mile goal motivates me to get on the bike more. If it weren't for Mr. Ferrante, I don't think I would have gotten up on the bike in the morning, so he's my motivator as well," said Keller. 
Ferrante dabbles in a handful of physical activities like tennis, soccer, pickleball, and volleyball. He enjoys being outside in nature, creating memorable experiences with his friends as well as exploring the outdoors. Ferrante has plans to introduce Keller to the world of bike touring sometime in the near future.